CPR2U New Mexico
CPR2UNM is a provider of American Heart Association CPR and first aid certification and safety training. CPR2UNM was founded to provide a source of quality CPR training and certification to health care professionals, daycare providers, church staff and anyone who wants to learn the life-saving skill of CPR.
Flexible Scheduling.
Nights & Weekends Classes Offered.
On-Location Training Available.
High Instructor To Student Ratio.
Casual, Fun Atmosphere.
No Waiting List.
Get Certified Within 3-5 Hours.
Certification Is Good For Two Years.
Variety Of Classes Offered.
Classes Taught Frequently.
We Can Accommodate Most Schedules.
Large Group Sessions Offered.
Get Your Certification Card Same Day!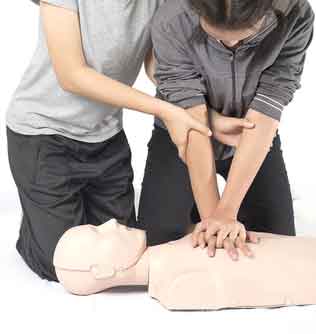 Our Classes in the Albuquerque Area incorporate both audio-visual and practical skills in order to deliver high-quality training. We have worked hard to make CPR and First Aid fun and informative. Many have said that our CPR class is "The best they have ever attended!"
Mission:
To be the best CPR provider in New Mexico; providing quality training that is engaging and offered to anyone.
Vision:
To be the best CPR provider; providing quality training that is engaging and interesting. To be an advocate for AED use and a worldwide provider of AEDs.
CPR2UNM CPR Training
We provide an outstanding CPR training experience to every individual we teach and providing quality CPR training that will leave you confident to perform the life-saving skills, should you need to. This is our number one priority. Our AHA-certified instructors are ready and able to handle your CPR training needs.
Our goal is simple: to provide the best CPR training for New Mexico, Northeast Arizona and Southwest Colorado! We will work with you and your schedule. We will even go to your site to get you certified! We also have Weekend CPR classes to better serve you.
Dedicated AHA Instructors
Our instructors are dedicated to making your class fun, worthwhile, and informative! We incorporate both audio-visual and practical skills in order to deliver high-quality training, adhering to AHA guidelines. Our students generally say it's "the best CPR class" they've ever attended.
Are you interested in becoming a CPR instructor? Contact us at: [email protected]
Thanks for choosing CPR2UNM – The Choice is Yours! Learn CPR, Save Lives. Your Premier Source For:
CPR Training and Certification for all American Heart Association training courses including ACLS and PALS
Adult CPR
Child CPR
Infant CPR
Basic Life Support (BLS) Healthcare Professional Certification and Re-certification
First Aid Education
Use of Automated External Defibrillator (AED)
Conscious and Unconscious Choking/Foreign Body Airway Obstruction
Heartsaver Bloodborne Pathogens
Two Year Certification
American Heart Association Official Training Site
Providing Professional CPR and First Aid Certification Classes to New Mexico, Northeastern Arizona, and Southwestern Colorado
Friendly Staff, Quality Training, and Cards Received at Class!
Serving
New Mexico, Southern Colorado and Nothern Arizona for professional, personalized and express CPR classes that fit your schedule and time frame! Get Certified today, you may just save a life!